Always fancied trying Lindy Hop, but never had the time to go to any weekly classes? Really want to get stuck in and get a good sense of what swing dancing is all about? Sign up to our popular DayHopper!
Event: Day workshop to learn the technique and different steps of Lindy Hop to get a good sense of what the dance is about.
Level: This day workshop is ideal for people who have never danced before or have never danced swing dancing before, but it's also suitable for Level 1 students who feel like they want to progress faster.
Why attend: Our teachers, David and Millie, will take you on an exciting journey, learning different aspects of Lindy Hop. This is the perfect opportunity to try out authentic swing dance in an exciting workshop, which is a good mix of fun, accessible teaching, and some opportunity to challenge yourself.
When: Saturday 21st May 2022
Time: 2-5pm
Venue: St Columba Hall in Moseley, Chantry Road, B13 8DD.

The Swing Era is based in Moseley. We run our DayHopper classes and Level 1 and 2 courses in the heart of Moseley Village in the beautiful St Columba Church Hall in the heart of this bohemian neighbourhood, with plenty of coffee shops, bars and cafes nearby.
Important information
Tickets:
Individual tickets – £25
Couple tickets (one follow, one lead) – £40
Gift vouchers are also available for single or couple tickets.

COVID measures: As per government guidelines we currently have no restrictions in place for COVID, but please note this may be subject to change. You can find our more recent Covid Policy on our website.

Cancellation: In event of cancellation of the workshop due to government COVID rules, you can get a full refund, take the workshop at a later date or we will put in place alternative provisions for who wants (online workshop).
What to Bring Ideas: Dance shoes or flat shoes for wooden floor, water, snacks, comfortable clothes, change of clothes, deodorant, towel.
What the Workshop Includes: Welcome with coffee and tea. A chance to unwind and meet your teachers and the other students of the day. Three lindy hop classes including 8 count lindy steps, 6 count lindy steps and the Charleston. End the day with a short practice session and social dance with vintage 1930s and 1940s music.
What is Swing Dancing and Jazz?
All swing dance styles are jazz dances and 'swing' referred to the style of Jazz music called Swing music. At The Swing Era we mainly dance Lindy Hop, which is one of the four swing dances (Lindy Hop, Balboa, Collegiate Shag and Charleston).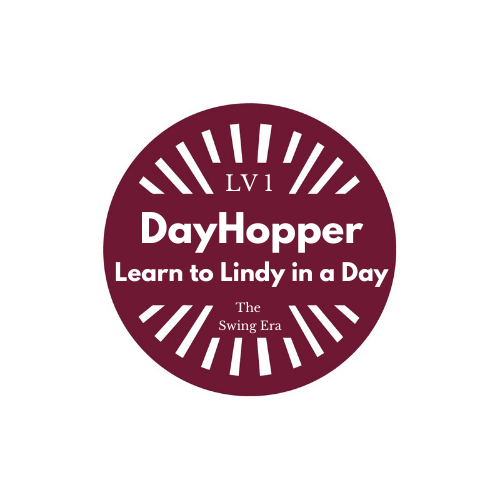 History of The Lindy Hop
Lindy Hop originates from Harlem, New York City. It was danced first in the famous Savoy Ballroom by African American dancers in 1928 and was danced throughout the 1930s and 1940s. It is said the name Lindy Hop was inspired by aviator Charles Lindbergh who 'hopped' the Atlantic Ocean in 1927. Lindy Hop evolved from different dances, including jazz, tap, breakaway and 1920s Charleston. It used elements from African American dances and European partnered dance. The dance has different positions (open and closed) and steps.