How would you like to be in the FIRST 360 Swing Dance Video??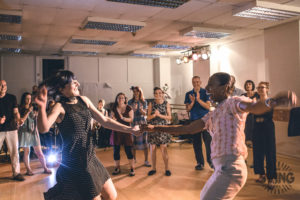 Yes that's right, we're living in the future AND we're gonna start a trend.
Those 360 cameras that you're starting to see pop up everywhere  is making a guest  appearance on the dance floor at the STOMP STOMP party!
So not only do you get a live band & hours of social dancing – you also get to be internet famous!
Book your tickets to this awesome event by clicking here.
Oh And Don't Panic!
If you don't want to be in the video have no fear, we'll only be doing it for one song and we'll give you a heads up beforehand, so you can clear the gangway when the time comes.
Er…What the heck is 360 Video?
Okay, so you're watching some dancers on youtube on your phone. They have some wicked moves, but then suddenly they do a swing out right off screen and start dancing there instead. What the heck?! How frustrating, you can't see them anymore.
With 360 camera, you just move your phone after them to the right, and hey, there they are. And if you physically move your camera behind you, hey, there're lots of dancers in here! It's a party!  Whoa!
Welcome to 360 Video. If it's a phone or ipad you can physically move your camera around to see whatever you want. On my laptop, in the top left hand corner of the youtube video there's some arrows that lets me look wherever I want instead.
All you have to do is hold your phone in the direction you want to be looking at, whether that be behind you or above or to the left to see what else is happening in the video.
It's probably best to show you this kind of thing rather than tell you though, so here's a video clip (go look then come back): https://www.youtube.com/watch?v=V9XxZrPdWSE&nohtml5=False
Have you seen it?
Pretty exciting stuff.
Details
The camera will be set in the middle of the dance floor at around 10.30pm, halfway through the big bands first set. So please don't knock it over when you're dancing!
The video will be put on YouTube for all the world to awe and ah at, so if you don't want anyone else stealing your moves, don't be in on it.
Aside from that, all you really need to know is that it's happening, for real, and I am well and truly very excited!
So if you were on the edge of booking your tickets, here's your final incentive: be part of the very first 360 Lindy Hop Dance Video!
It's gonna be a blast! ; D Book your tickets here now!
or click here for more info on Stomp Stomp
Written by Charlotte Bailey, part of The Swing Era team
Please follow and like us: